{jcomments on}
(My Mini Pharmacy)
'We won't be sick, we won't be ill
We won't need the doctors, we won't pay his bills
If we want to be wealthy, make sure to stay healthy'
I sang thisrhyme in primary school and like every young child, had my fun enjoying the music like rhymes without completely understanding the words. In a similar way, I heard these words constantly 'Health is Wealth'. Itwill take years later for me to truly grasp the import of these simple words.
Going back to the singsong in the beginning of this article, is it that easy to stay away from doctors' or medical bills even if you are away from the hospital?  Even if you take just one medication like the most common folic acid every warrior takes, it requires money to get them from the pharmacy regularly. But alas, Folic acid is not the only medication we take. We all have our regular supply of medications we take daily.
The first time I took an interest in trying to figure out how much money goes to my regular medications was while I was through with University and starting my youth unemployment services with the well known Chomecam. One memorable but very idle day, I got hold of my mini pharmacy and started evaluating its contents. I remembered shouting after making an estimate of just one medication. My younger sister who was on the phone gave me a side look wondering if I was on the brink of a crisis. When she saw the incredulous look on my face and mouthed what? I said never mind just calculating medical expenses.
That medicine was Hydrea 500mg sold at 4650F back then. Today, it sells between 5975 to 7500F a pack. One packet lasts for two weeks only and I have to take it regularly, year in year out with regular checks until my doctor tells me to stop; something he will not be saying anytime soon. That's because the medicine is effective and reduces the frequency of pain crises mais yi dear well well.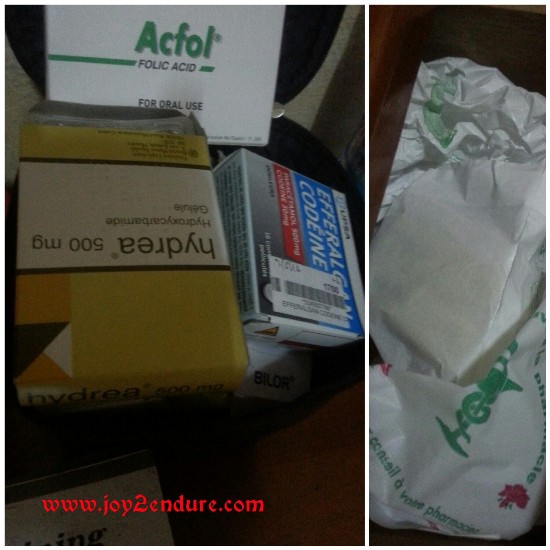 (Some of the daily drugs which make up my regular pharmacy supplies.)
Making a rough estimate using 5975F recently as start point, it shows with this medicine only I spend roughly 143,400F for a year for this medication alone and that is if I am fortunate to have it at that price; because like I mentioned earlier, the price fluctuates between 5975 to 7500F.
Two other regular drugs sold at 1700 F each were estimated at 61,200F.
The grand estimate of what I spend on regular drugs a year is about 204,600F.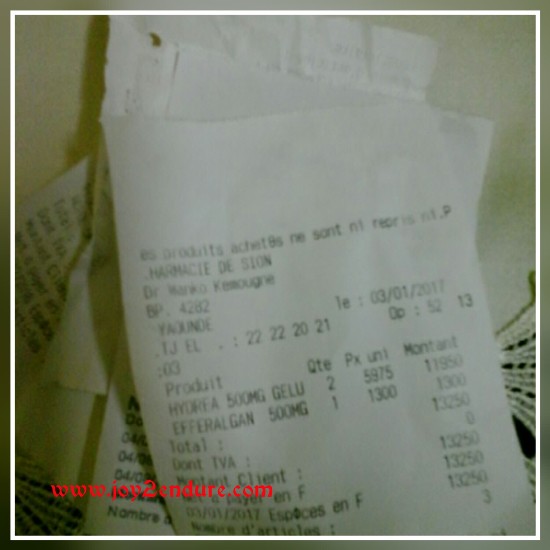 (Some Receipts from pharmacies which for some odd reasons, I don't throw away.)
That was just an estimate of regular drugs. What goes for hospitals bills when I am sick was not even included. One day, due to more idleness … idleness has a way of making me check my mini pharmacy and medical records. So this time was no different add and just being silly to the equation; I took my hospital book and tried adding up all the visible CFA totals written in it since last year began and added it to my regular drugs estimate and guess what I came up with? Yes wait for it… more than 600,000F!
And I went wow! If man no get money yi go die like fowol oh! This was just an estimate for one year… 2016 to be precise… I couldn't stop thinking of just how many millions have been spent to keep me alive all these years I have walked on God's green Earth. I am thankful for the fact that my job has in the past few years given me the opportunity to meet some of the medical expenses and give my people some breather. Yi no easy!!
And sometimes I sit and think about that little house with a picket fence wondering if ever I would be able to fulfil that dream when my yearly medical bill; especially during those rough years are more than half a million.
For a fact, my mini pharmacy could build me mansions and buy me any latest car I want but alas, of what use would it be if I save for those material luxuries while putting my life in jeopardy? When they spoke about the fundamental basic needs of humans such as food, clothing and shelter, they forgot one particular group of humans… sickle cell warriors and all chronic disease sufferers … to make access to free medicines a basic human rights because for these group of people, their medications are just as important as the food they eat and air they all breathe without which, they would all die like flies.

My hats off to all the parents and siblings of warriors who go out of their way with labours of love and sacrifice to ensure their warrior child or sibling is well taken care of. Hats off to the warriors who have joined the bandwagon of medicine buyers to ensure their parents and siblings get little financial breathers now and then. It certainly is no mean feat.
Maybe someday, that million dollar job will arrive which would enable some of us warriors take charge of our lives without feeling the constant pinch of holes in our pockets. Maybe someday, the government would be forced to acknowledge sickle cell disease as a public health concern thereby making sure like other diseases, warriors also have free access to essential drugs or a more affordable and regulated price for drugs peculiar to sickle cell patients.
In the meantime, some of us warriors can only dream of those mansions, confidently taking our steps each day without shame of being unable to afford the so called basic luxuries like cars; without our constant holes in our financial pockets which are all testament of our trials in this journey we all call life.
Keep reading, keep sharing and keep commenting. We are inspired by your comments, thank you.
ARREY E. AGBOR-NDAKAW.
{loadposition socialshare}