{jcomments on}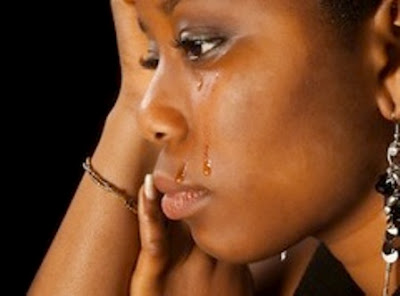 Eposi sat quietly by the window, her favourite spot of late starring forlornly into nothingness while silent tears stream down her face. Her once impeccable appearance now dishevelled from lack of care. Time and again, she wipes her face with the edge of her wrapper but the tears flow still.
Maybe the gods of rivers and seas decided to dwell on her face this time around.
The curtains were all down and the room looked dreary, a fitting atmosphere to her state of mind but she was oblivious to all that as she continued to stare into nothingness.
 There was actually an occasional sad smile before it gets swallowed again into the torrent of tears. Red puffy eyes and running nose became her regular companions.
Life was not always like this. You see hers was once a very happy family of six.
Her husband and four kids was the centre of her universe. Happy footsteps and laughter once echoed within the now still and quiet house. She smiled as she remembered the happy moments with her kids.
'Be careful you will fall'
She waited in vain for the 'No mama I am a big boy and big boys don't fall'. Her outstretched hands remained hanging and the tears flew afresh.
Eposi wondered again and again what went wrong. She asked herself over and over what crime she committed for her family to fall apart before her eyes?
Then she remembered she didn't do anything wrong. She simply nurtured and guided her family.
 But then her kids grew up. They grew up and got transformed.
The values she instilled and the hard work got flushed away.
They listened to others instead of her.
They carried their problems to others whom the green eye monster long ago entered them and they labelled her a witch and wicked mother.
Patiently she bored the taunts of her pride turned nightmare.
And silently the tears flew. Life took on a meaningless and listless form. Her beautifully tended garden became weeds and her champion and confidant deserted her in her hour of need to chase after ngonderehs  just out of the nursery.
Thus Eposi sat, surrounded with gloom and starring at nothing while her dreams crumbled before her and her tears refused to dry.
ARREY E. AGBOR-NDAKAW
{loadposition socialshare}