{jcomments on}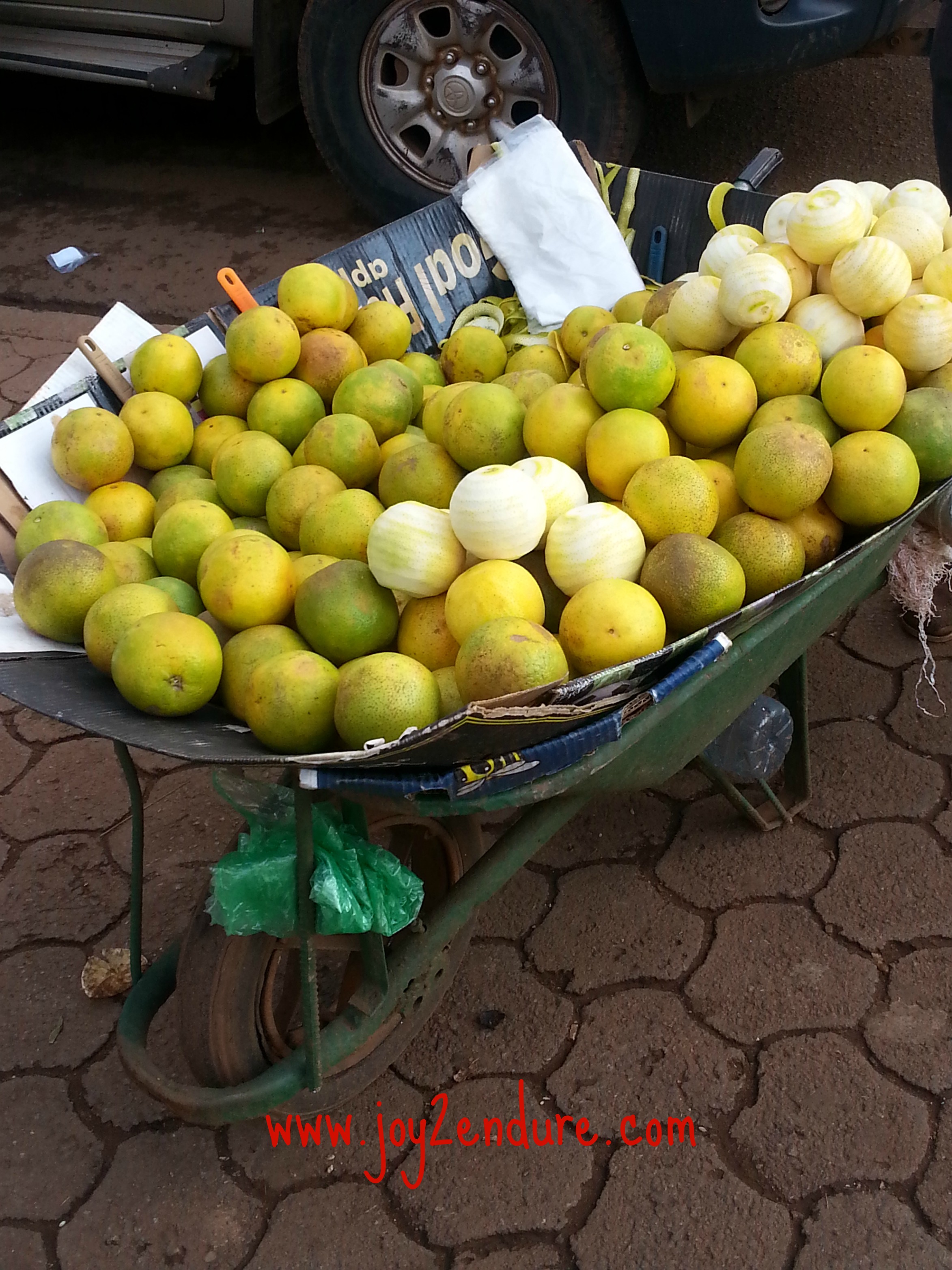 These sweet oranges also peeled with dexerity are a good thirst quencher after a long day.
When faced with challenges, there are two things we could do. We could either give up or look for ways to see that light at the end of the seeming dark tunnel. One group of dynamic youths are doing just so. They have devised a way to seek the light in the dark sea of youth unemployment plaquing the country. These youths I chose to call them wheelbarrow merchants. Read on and see why I gave them this name.

The only thing I could associate wheelbarrows with while growing up was construction. I mean I usually saw them around houses with people using it to transport some form of house related work with it. It could be to transport equipment to a building site or to transport waste matters from the said site or the house. Furthermore, it usually always served as a kind of storage space where every household DIY equipment were neatly stacked and carefully stored away.
Times have changed and so to do the way people see these barrows. Nowadays, especially in big towns and cities, these barrows are becoming a means for survival. From the push, push boys in the market who help carry shoppers' loads for a minimum fee to the plush mobile shop owners parading their wares in carefully decorated wheelbarrow stalls.

My curiosity was raised when I stopped at one of these stalls I will here call mobile breakfast joint. I was hungry, left the house in a hurry and so needed to search for a quick meal in a clean place that early morning.  I saw people flocking around a particular spot and when I approached it, I noticed a neatly stacked structure which by all indications looked like a kitchen. Counter racks where eggs, bread, and other kitchen wares were neatly placed and a flat surface which served as a gas plate stand were all built on this structure. Upon careful examination, I saw wheels and a push handle. I was quite impressed. When it was my turn, I asked the guy what prompted him to start the business using the well-arranged barrow.  In a typical Cameroon fashion, he replied with his own question asking me if anything was wrong with him doing so. I told him no, I was just impressed and curious. He therefore, explained how he could not find a job and he had to figure out a way to care for his family. I told him more manyanga to his hustle. The guy is doing well and his breakfast which comprises of eggs, spaghetti, bread, sardine and tea sells like hot cake all the time to people working around that area.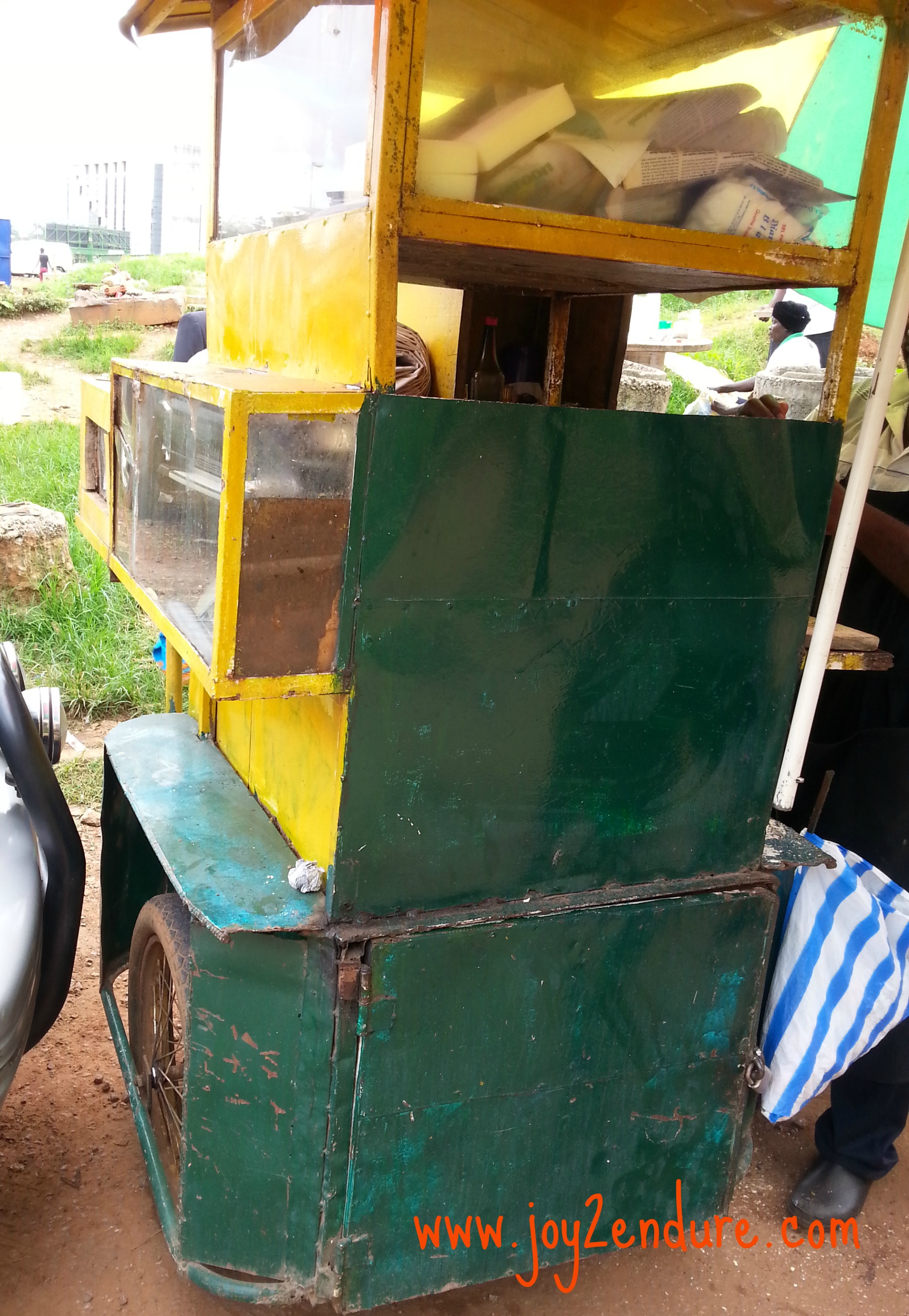 with this mobile restaurant, your breakfast woes are over.
That encounter impressed upon me to start looking at wheelbarrows and those who wield them in a different light. I started taking stock of the different merchandises I come across artfully displayed on these barrows and each time my appreciation for these people doing their best at survival in a seeming harsh system grow a notch. I also approached some and asked if I could take pictures. I appreciate those who readily accepted I take pictures of their wheelbarrows which generated the idea of this post.
It is not an easy job as they have to constantly brave the elements and the police chasing them but yet, day in, day out, you find them scattered around the main town and markets sweating away in search of their daily bread.
Struggles and all, I see business zeal, persistence and ingenuity. They are the new breed of business people, adding their own brand in our already very rich culture and carefully laying foundations to future budding business empires.
It is all about survival and the hustle is real. Some may choose to hustle elsewhere but they have decided to make an honest living hustling where they could. So next time you are thinking of what to do with that wheel barrow idling somewhere behind your house, take a leaf from these barrow merchants and join the hustle.
Follow me on my wheelbarrow stalls tours, feed your eyes with the pictures and tell me what you think.
Well arranged apples which tantalise the taste buds and makes one reach out for a bite. Just wait until you can get it thoroughly washed at home.

Shoe addicts are not excluded. 🙂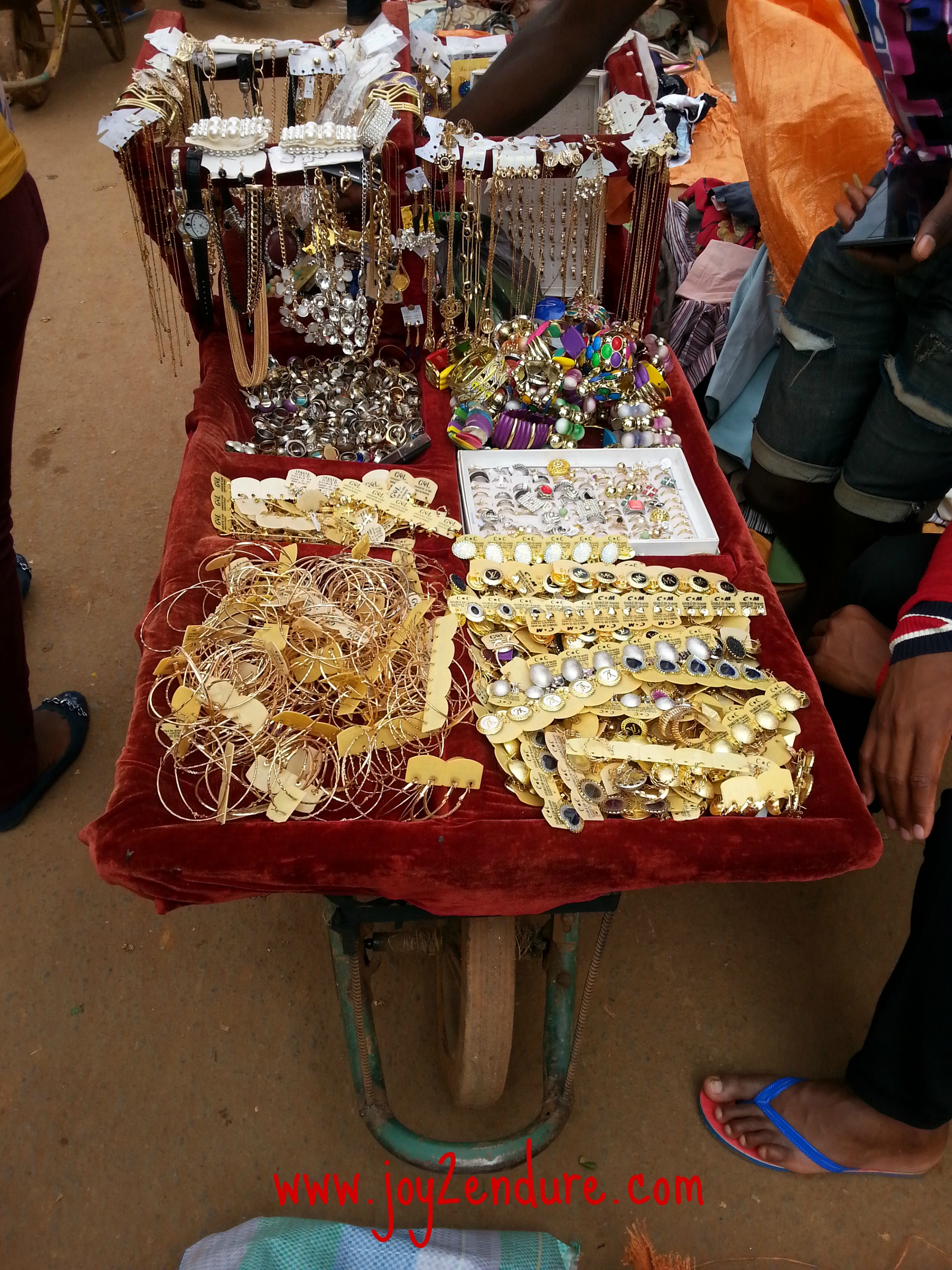 Forgot your necklace or earrings? Nevermind. Mobile Jewelery services are available. Reach out and complete that outfit.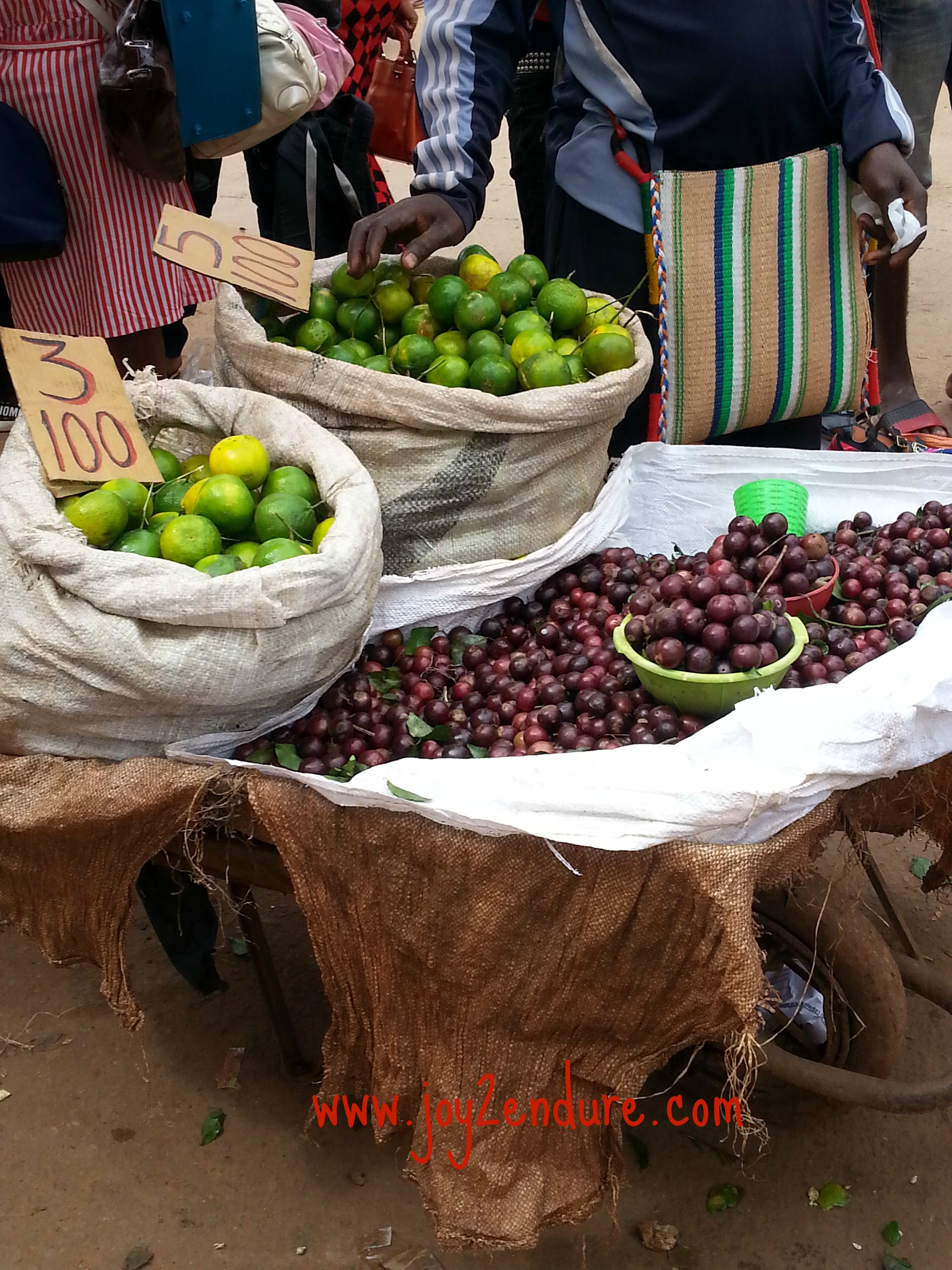 Seasonal and all weather fruits are also available.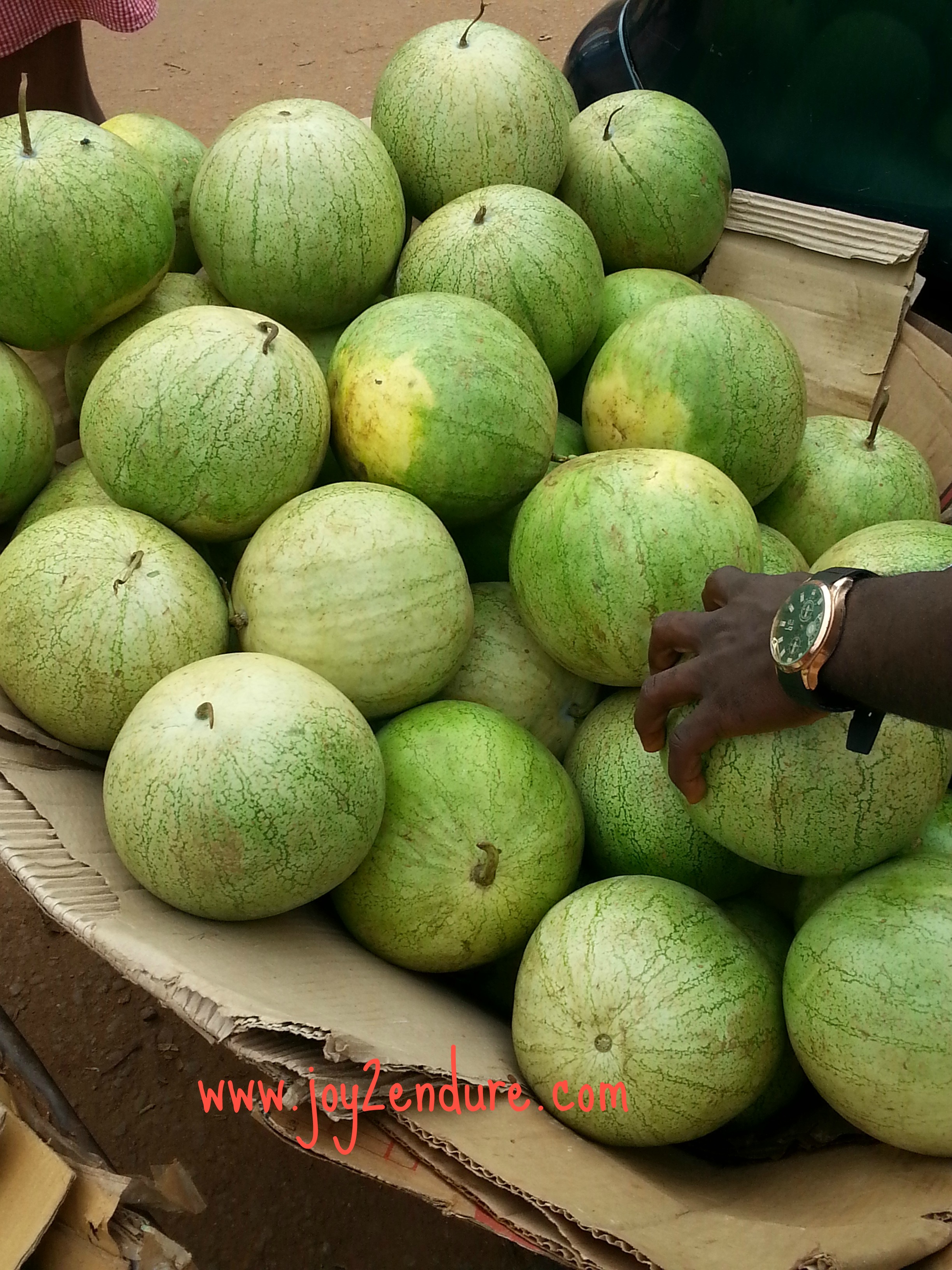 Keep reading, keep sharing and keep commenting. We are inspired by your comments, thank you.
ARREY E. AGBOR-NDAKAW.
{loadposition socialshare}