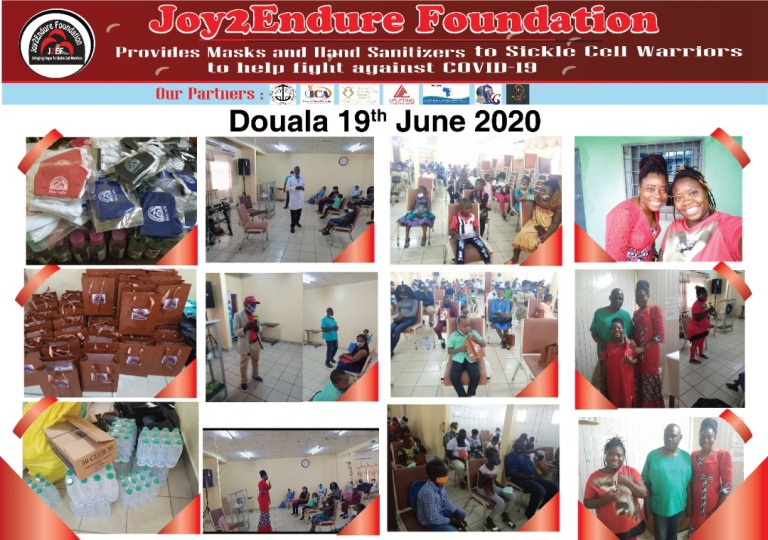 The world has been in a static state for almost six months. The Novel Coronavirus has kept many things on hold and brought about what many now refer to as the new normal in the way we go about things. The need of social distancing, no handshakes and keeping gatherings minimal made it difficult for us to carry out our activities this year, reaching out to sickle cell warriors. Undaunted, we had to think of what we could do even as we kept most of our planned programs on hold and bingo, idea! Make SMART goals and work with the times and thus, the idea of providing masks and hand sanitizers to warriors was born and so, here we are. Starting with accountability, we are going to highlight how the outreach went.
On 30th May, 2020, we posted a flyer on our hand sanitizer and mask outreach. Initially, we had planned to reach 100 warriors. The support we received was so overwhelming that we were able to reach over 400 warriors in four different towns. We are equally able to reach a small number of warriors not included in the greater numbers reached.

A lot of what we did was done online. I mean coordinating activities with others in different towns was done mostly online and here the power of technology could not be over emphasized. Due to the restrictions in place which made traveling difficult, technology came to the rescue. The most important thing was, I was privileged to work with some amazing and dedicated people who so generously donated their time and expertize because they genuinely want what is best for the warriors.

Mrs Prudencia Asanga coordinated activities in Douala and made it a smooth ride. On the day proper on June 19th, I had to travel to Douala to kick start the outreach. Was I worried? Yes. But I was equally glad I took the risk to travel. The smiles and satisfaction from the warriors and all present was well worth it. Dr Ngu, coordinator of the Mboppi Baptist hospital Sickle Cell Clinic and resident pediatrician, was a god sent. He helped us to rally the warriors and was on hand to talk about Covid 19 and why warriors need to be even more vigilant. We also had Mr Ashu Egbe whom I fondly call Uncle Warrior encourage us with his triumph over sickle cell and how he is living life to the full present to motivate and encourage us all with his story. Gift bags were presented to all the warriors present containing masks and hand sanitizers and one of our sponsors, The Babila-Boye Arise4Africa Foundation would be supporting one or two of the warriors present with scholarships for the school year.

From Douala, we went to Bamenda. I couldn't travel to Bamenda because of a number of factors. The unrest in the region and the COVID 19 risk. However, technology was well put to use here. Ms Jennifer Mukenyu Kebong, a warrior par tres haute excellence did an amazing job coordinating things on the ground. Back and forth discussions through whatsApp and how I wanted the program to be like, we were able to reach about 100 warriors here who also benefited from this program. Additionally, routine medicines were provided to over 30 warriors here. Everyone was happy. Parents were happy and I was super happy things went well.

Yaounde was the next town and being my town, it means moving up and down doing so and so. Thankfully, I have an amazing team behind me making sure I do not over stretch. The dedication of Dr Michael Budzi to helping warriors and his hands on involvement in matters could not be overemphasized. We collaborated with Ms Frida Bessem another sickle strong warrior and together, we were able to reach over 150 warriors. Dr. Mike opened the event with a word of welcome and amongst others, a reminder of the need to stay vigilant and protected as we go about our activities. Also, he demonstrated the proper use of hand sanitizers. Mr. Gideon, head pharmacist at the Etougebe Baptist hospital where the event took place was also present to teach us how to make home based hand sanitizers, with hopes that it would help the warriors to offset cost and stay save.

Finally, we ended up at Ndop where we rounded up what have been amazing 1 month and some weeks of activities. Here again, technology came to good use. Ms. Olivia Acha Morfaw, another strong A Team Member, linked us with Mr Ndah Martin of Ndop. We arranged things to reach 60 warriors. Masks, hand sanitizers, routine medicines and soap were distributed to the warriors. Those who couldn't be present because of being hospitalized equally benefited.
In all, 800 masks, 420 hand sanitizers were distributed to over 360 warriors. About 100 received routine drugs and another five in Kumba, not covered in the outreach proper, received cash support for drugs. Read a more detailed update of the outreach from my Facebook page here.
There is also another article on this blog about our activities in Yaounde. Please click read here.
Lessons from this Outreach.
1. There is power in collaboration and this is made even more beautiful when all involved are united towards a common goal. I collaborated with some amazing people and together, our outreach was bigger and better. Here, I especially wish to thank all who collaborated with me including our partners ( Uplifting and Inspiring Content, Local Youth Corner, Cameroon, Women's Community Impact Awards, Miss B Fashion International, The Izam Charity Association, Cameroon Baptist Convention, & The Babila-Boye Arise4Africa Foundation). And everyone who rallied behind us.
2. In as much as we wanted to include food stuffs, we realized that the pressing need of the warriors was not about food but in having their daily drugs. That was the feedback we received to our question when we went to Bamenda and Ndop : Can we add some food stuffs? The response was no. Bring drugs. So, the lesson here is twofold. Ask the people what they need and provide that if you can or make sure you can provide what they need alongside what you have for greater impact. People will appreciate more when they know their feelings and needs are taken into consideration.

3. Technology is an important and viable tool in advocacy when used well. It is good to make use of those accessible to you to reach many people far away for greater, positive impact.
4. Prepare for what you can but also aim high to do more.
We try to meet the immediate needs of the warriors we meet, especially those who approach us for some assistance. However, we are also trying hard to make sure we not only teach them how to eat fish but also how to fish.
Our first major outreach to four different towns was a huge success. Feedbacks from the beneficiaries were equally encouraging and we are motivated to keep doing the best we can as we bring hope and joy to warriors. We cannot thank all our partners and other support team enough for the support they generously gave to make this outreach our best yet. Keep watching this space.

Keep reading, keep sharing and keep commenting. We are inspired by your visits and comments, thank you.
ARREY-E.AGBOR-NDAKAW