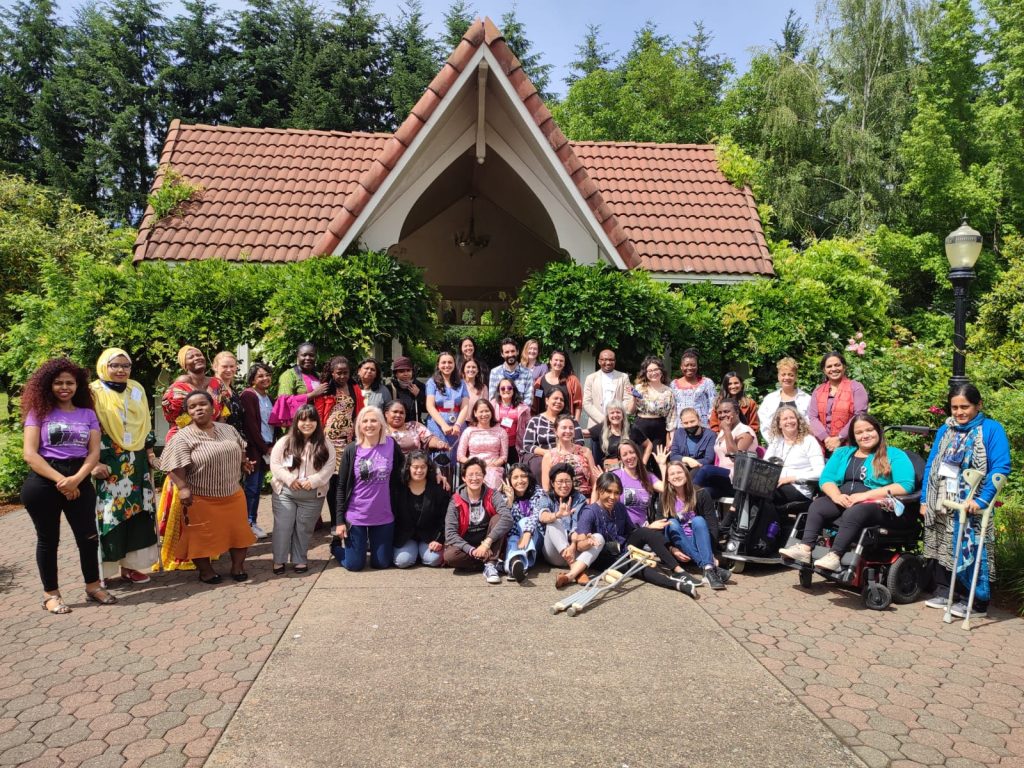 Since mankind learnt to fly planes, I dare say no period has been as spectacular as this moment. From the 30th of May 2022, the skies of 23 countries were especially busy. Despite the uncertainties of a raging pandemic, 23 daring women leaders with varied disabilities braved the skies to be in Eugene, Oregon, USA from the 30th May to the 18th of June, 2022, to claim their esteemed positions as part of the 10th Cohort of Mobility International USA (MIUSA)'s signature program Women Institute on Leadership and Disability (WILD). From the tropical and sunny shores of Africa, to the Mediterranean climes, to the rainforests of the temperate South to the cool rain of the Pacific Coast, it was a beautiful moment of colour, glam, learning and bonding in exotic and WILD sisterhood.

THE GENESIS

Around December of 2020, the call went out for women leaders with varied disabilities to apply for the WILD program. It was a long wait, compounded by the uncertainties of a COVID – 19 world. Still, we waited, patiently and with bated breath, confident that, that long awaited email would come. We were not disappointed as that one beautiful day in August an excited thrill rang across the world in several households; excited that we made it to the WILD final list. With Covid 19 cloud still hovering around us, we started the program virtually, making our batch unique in so many ways.

TRAVEL PREPARATIONS And TRAVELS

I was especially excited for many reasons when we were told we could start preparing for the in person WILD program in Eugene, Oregon. Imagining the excitement of finally meeting all the amazing sisters and staff of MIUSA who are making this possible was simply amazing. Everyone worked tirelessly behind the scenes to see this come true. A special shout out to the tireless and committed Megan, for her passion and dedication to ensure we had all the necessary information from visa processing to travels.

The time came for us to start our Eugene bound journeys and this is when the skies got busier across 23 countries. Of course, the skies are always busy but a WILD woman aboard an airline adds a certain flare to things. Delays, missed flights and tiredness notwithstanding, it was heartwarming to finally make it to Eugene to meet Suzan with a beautiful Sunflower to welcome me to Eugene. My flight delays meant I missed meeting the bigger welcome party at the airport but I got my own hug and sunflower, getting the additional welcome hug from Cindy at the hotel lobby. It was simply beautiful, finally being able to see and get these hugs after months of virtual activities and communications.

MEETING OTHER WILD SISTERS AND TRAINING PROGRAM.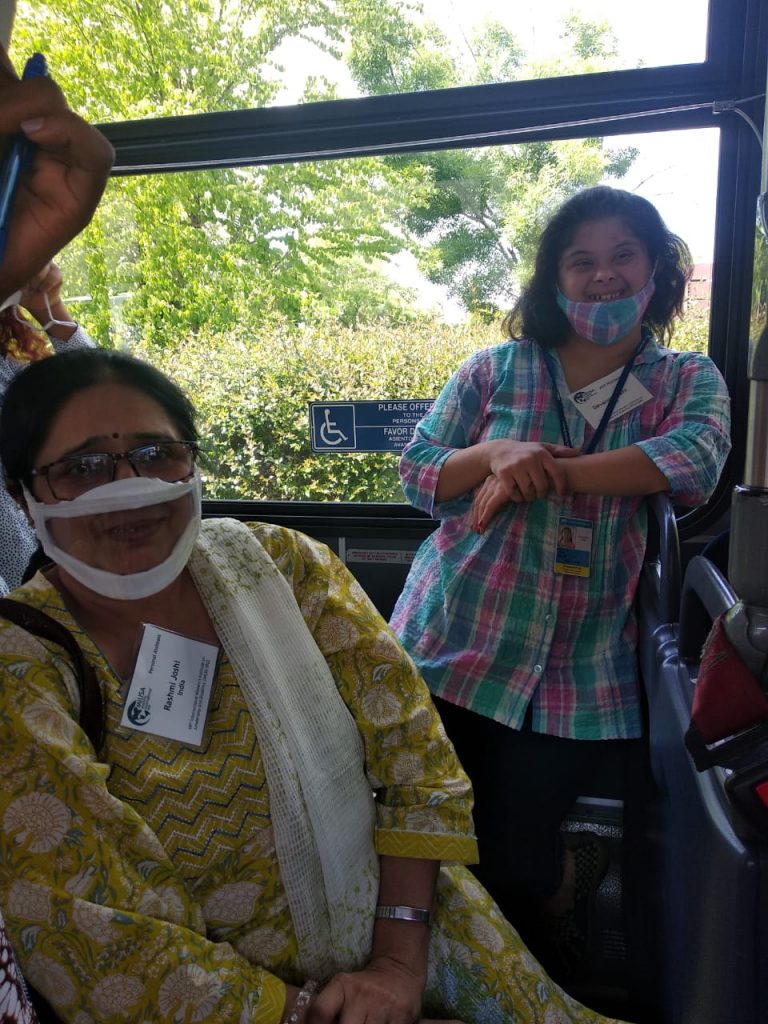 Arriving at midnight meant I couldn't see any WILD sisters but in the morning during breakfast at the comfortable Holiday Inn Hotel, I got to meet Rasha from Egypt, Woletta from Poland and Devanshi and Rashmi from India. Devanshi stole my heart that first meet and she would go on to remain my Most Valuable Player (MVP) throughout the WILD journey in Eugene. In the days that followed, I would have the honour to meet and bond with more of these amazing WILD sisters. Meeting Kadi, Weng and Miyausa, other deaf and hard of hearing sisters was a beautiful experience, as it was indeed with all the sisters but because we all had to sit together most of the time because of our varied levels of deafness and hearing challenges, it was only natural that we bonded more
The lessons of the training program were just so mind blowing. The opportunity to upgrade our skills and expertises as leaders and changemakers during this period is one that will always be cherished. Lessons ranged from Inclusive Education, transport, recreation, policies and governance, self defence, sports, Sexual and Reproductive Health Rights (SHRH), media,, grants writing and budgeting amongst others. There was recreational activities such as swimming , sight visits to experience inclusion at play such as at the Oregon School for the Deaf and the welcome party at Ms Sygall's house were we shared Challah Bread, spoke about what we were all grateful for and danced our hearts out in which ever way we could. It was a beautiful moment.

During each of the lessons discussed, I asked myself a lot of questions. We saw how commitment, dedication, the will of the people and a government willing to listen could make things happen and I wondered how I could implement these valuable lessons back home? A lot of us are from countries that are still light years away from inclusion of persons with disabilities and also face a lot of challenges when it comes to inclusion and implementations of policies due largely to difficulties to penetrate governments and people's general perceptions about persons with disabilities. The challenge is to see how to take this knowledge back home and see how to pass it on for a more inclusive community, especially targeting women with disabilities who are usually always at the most disadvantaged end. I made a silent promise to continue to use my space both online and offline to fight for more inclusion in any way possible.
Gender, Disability and Development Institute. (GDDI)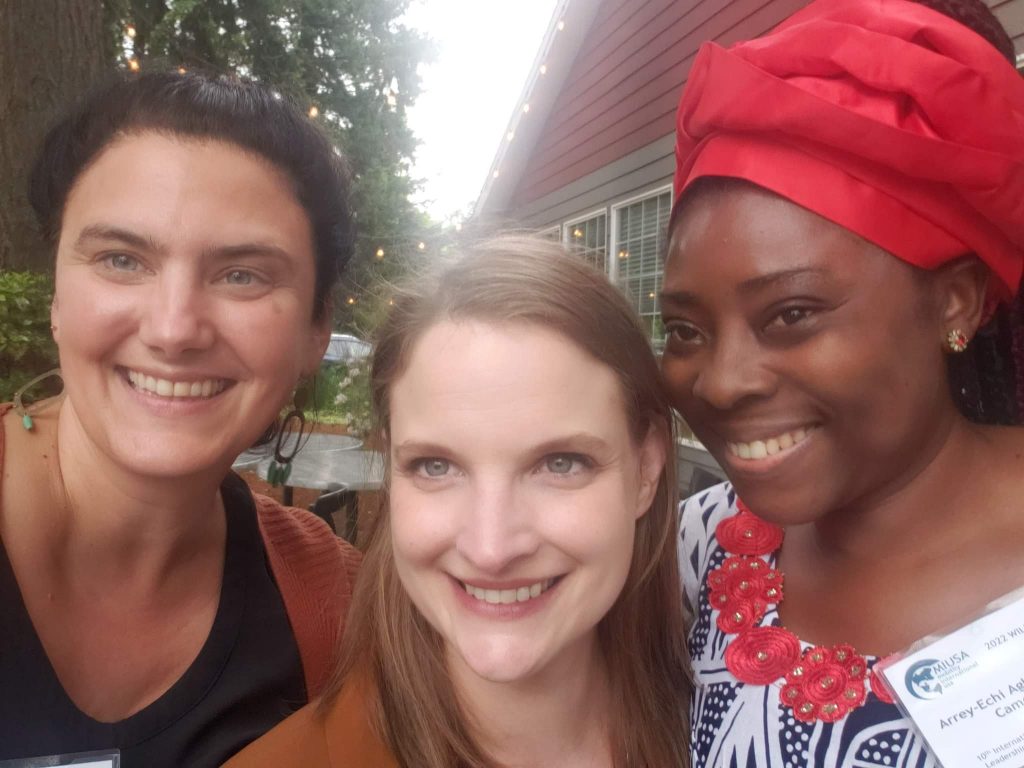 The highlight of the three weeks WILD experience was the two days workshop of GDDI. It was like practically opening a fish pond for us to fish as MIUSA generously brought in amazing people from different organisations interested in disability inclusion. It gave us an opportunity to pitch our ideas and pick on their expertises as well. I met many amazing people. I made new friends and most especially, I had the unique privilege of seeing one life long dream come true, meeting and hugging World Pulse's Founder and CEO, Jensine Larsen and Corine Milano during this GDDI, a treasured moment for me. Our power statements at the end which culimulated to our WILD graduation was also the first time I could give voice to a bigger audience of a long held but very strong childhood dream – building a hospital for persons with sickle cell.
PRACTISING WHAT THEY PREACHED.

MIUSA is big on inclusion and empowering women with disabilities and this was very, very visible throughout the program. There were amazing and dedicated translators and interpreters throughout the duration of the program. Everyone felt included and valued. The formidable team of Sign Language interpreters made up of the amazing Christine, Steven, Brit, Mel, etc were just so great! The quiet but visibly present transcriber was invaluable. Braille articles were made readily available for our blind sisters. And our Spanish Sisters were not left out as Cecilia and the Spanish team were just as dedicated to ensure everyone was attended too. It was beautiful to behold and a powerful lesson in inclusion.

The seamless coordination of activities, the team work and the respect, love and passion for each other and what they do was a testament to the power of team spirit in making things happen. It was a most powerful and invaluable lesson I learnt watching Suzan, Ms Cindy, Megan, Ashley, Linda, and Ms Susan Sygall and all the many MIUSA teams we met. The lesson was simple yet profound… you want things to happen, work as a team but value what each person is bringing to the table.
THE HOME STAY EXPERIENCE.
Before I travelled, I knew we would have to stay with American families to help us know more about American Culture and way of life. I must admit I was worried. Having a chronic health situation coupled with my hearing impairment made me weary. I had to think hard about what happened in case I get one of my crises? Would the family I stay with be able to handle things? Fortunately, I didn't experience a sickle cell crisis but I didn't have to worry much because my home stay parents, Erin and John showed they were up to task. They didn't only open their hearts and doors to me but also went all out to make sure I was comfortable, learnt something or two about my health and what needed to be done, making sure that I was well cared for. Time will fail me if I have to talk about this but I was happy and proud to have them as my 'young American parents' as my fellow deaf sisters said. These memories will forever be treasured and I am happy to know that I always have a home in Eugene. My takeaway from this home stay experience is that MIUSA is knowingly or unknowingly building a world where unconscious biases are crumbled daily because, where there is love and acceptance, barriers break down.

POWER ON WHEELS.
The Indefatigable and Powerful Ms Susan Sygall. Picture Credit: Ms Ashley (MIUSA)

The first time I met Ms Susan Sygall, I asked myself 'How does this amazing lady do all this?' And then I watched in admiration and respect as she, like the commander in chief that she is, took charge. With each spin of the wheel, I saw power. I saw determination. I saw confidence and a whole lot more which brought to mind forcefully and positively, how she's been able to do it for over 40+ years. I got my answers to my musings without voicing it out just by watching her spin around the room. Yes, without a doubt, there's POWER ON WHEELS. You only have to own it and know how to spin it around to get things happen.

MIUSA team was exceptional and the WILD journey, in spite of it being fast paced for some of us and us wishing we had a little more time to explore Oregon, was a beautiful experience. The WILD Sisters, amazing humans inspiring and defying the odds with their strong voices. It is an experience that will not be forgotten and which has added to the flames to fuel this desire to continue to impact my community. The team ensured that we were well taken care of and stayed safe, I especially benefited from this loving care in more ways than one and I am forever grateful to the one and only Ms Cindy, my home stay parents, John and Erin and the entire MIUSA team for their care; something that was very crucial especially as we travelled in the midst of a global pandemic and unrest due to gun violence in the U.S.A.
As we return to our various countries and lives, may we remember these valuable lessons and time and may we hear this echo : 'Nothing without us'. Yes, there can be no inclusion without us and so, we do well to remember that the mic and the floor also belongs to us, in the absence of which, we have been trained to penetrate spaces, to soar higher, and in the words of MIUSA, to challenge ourselves and change the world as we dare to claim our spaces loudly, proudly and passionately.

Forever grateful to everyone who made these three weeks a memorable and beautiful experience.

Did you enjoy reading this? Drop a comment let's hear what you think, thank you.

ARREY-E. AGBOR-NDAKAW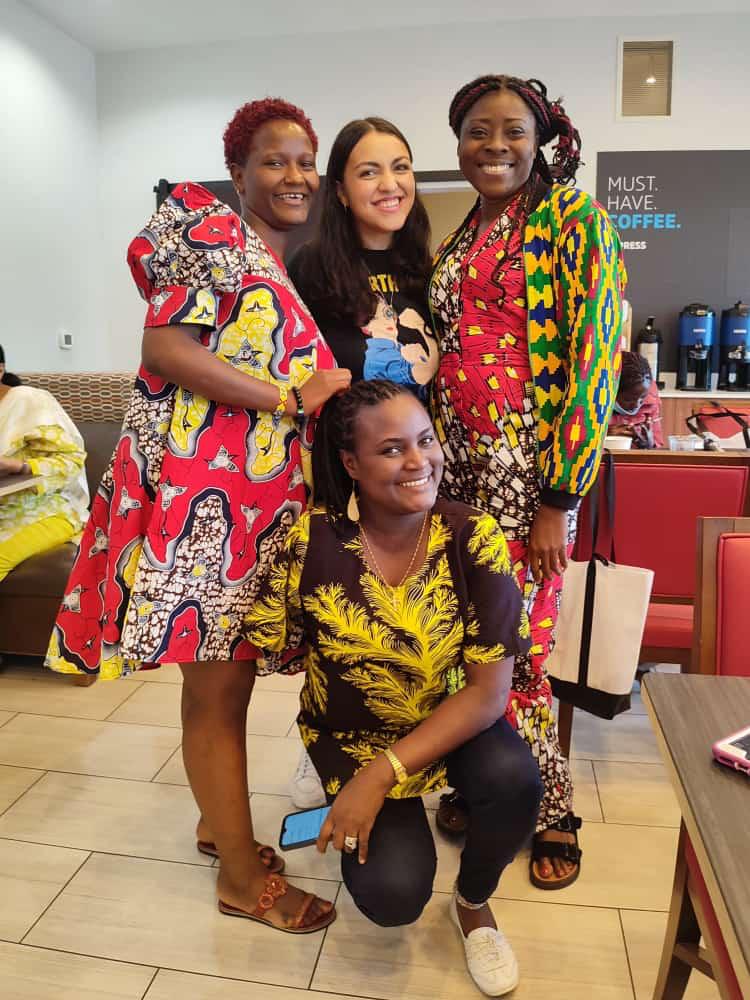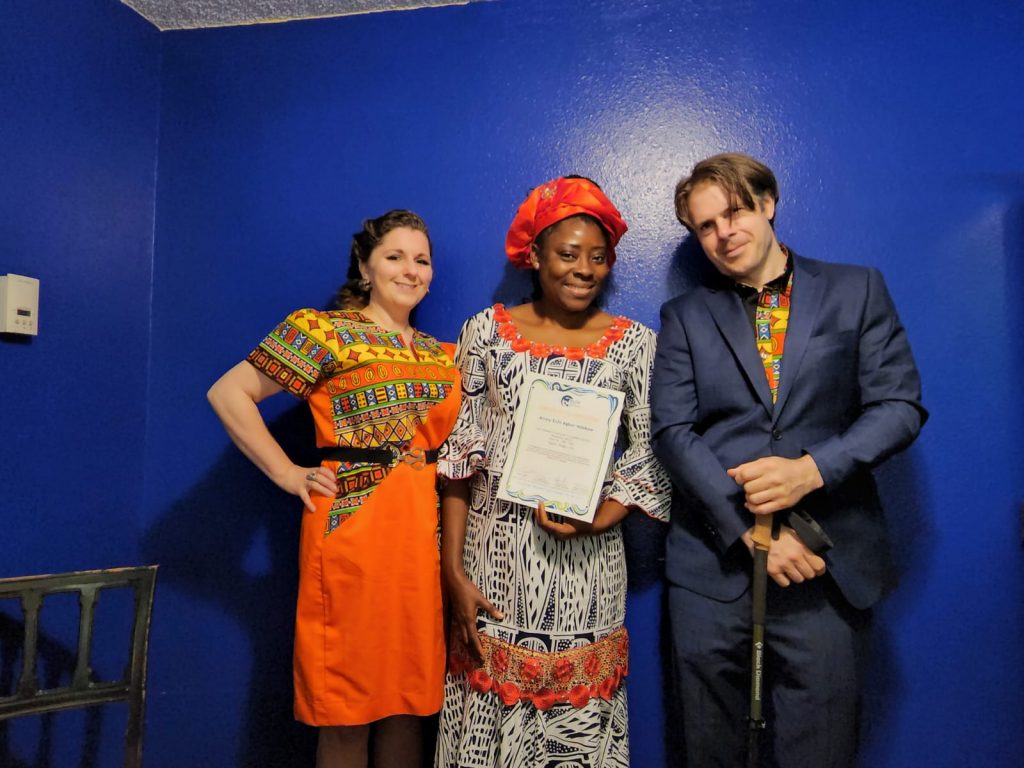 Some WILD Moments and memories.