'You are now a woman. If you allow a boy to touch you, you will become pregnant'
This is usually the only pep talk many mothers have with their daughters about their sexuality. This often happens during the first menstrual experience of the girl child. After that, it is a closed topic. Discussing sexuality and reproductive rights of women and girls is a taboo subject that must bespoken in hushed tones. Unfortunately, this lack of openness and education on the sexuality of women has landed many young girls in deep trouble. Ms Sally Mboumien, a World Pulse graduate and initiator of the Coffee and Stories talk where women gather to unburden themselves, shares how this lack of education and awareness in her sexuality impacted her life and what she's doing in her community to break this taboo. Please read on…
Joy2Endure (J2E): Welcome to Joy2Endure. We are honoured to have you share your work with us. Can you tell us who is Sally Mboumien?
Sally Mboumien (SM): Sally Maforchi Mboumien, from a rural community in the North West Region, Bawock, is a social activist who is out to uphold WOMEN and GIRLS' sexual and reproductive rights.
J2E: Bawock seems to have a lot of people advocating for women and girl's rights. What motivated you to start your advocacy on sexual and reproductive rights of women and girls?
SM: Primarily, my personal experience during my adolescent years gave me the push to carry out this advocacy. Sexual and reproductive rights for women and girls play a determining factor in the kind of life they live later on but, my community still treats it as a taboo subject. I suffer from a crude abortion from a drug store because of ignorance since my parents like many others within my community, didn't tell me anything about my sexuality or how to manage it while growing up.
J2E: A painful personal experience being your motivation.  There's something special and powerful about personal experiences.  How long have you been doing this? Considering the fact that it is a taboo subject, what challenges have you experienced?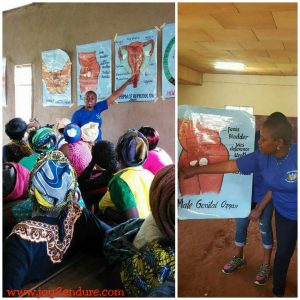 SM: Truly, my personal experience has remained my motivation for the two years I have been handling this subject. Each time I reach out to parents and young people on this subject, I feel healed from my painful past. Just like any social change, my journey has met with enormous challenges. Both the young people and their parents are always shy to participate in discussions, thereby hiding useful information that would have sped up my course. In addition, cultural norms and traditions prescribe silence on issues of sexuality especially on women/girls. In this light, I have been accused of teaching women and girls how to be "stubborn" to the men since I encourage them to know their sexuality and take charge of it. The worst is that, what I teach women and girls is grossly misconstrued by members of the community who listen with a lot of prejudice.
J2E: That's a tough one to crack. Long held beliefs which prefer women remain in the dark.  I applaud your courage and persistence in the face of such daunting challenges. I followed your recent activities to some communities in the North West. What other challenges did you have to face to reach them?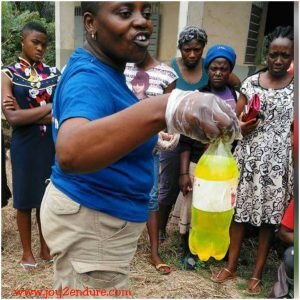 SM: Thanks for following my activities keenly. My activities are usually within the Bali community but for this month, we had an outreach program to more than 8 rural communities within the North West region. We met and worked with over 300 girls and women on issues concerning their sexuality as well as their sexual and reproductive rights. We equally taught them an economic empowerment skill to help themprovide their basic needs.
It has not been easy to reach out to these women and girls. We faced a good number of challenges ranging from lack of human and material resources, bad roads, conflict with some religious bodies, not forgetting funds to run the activities. Actually, I am unable to meet the demands from other communities who are interested in my activities because there's no funding for me to get there and we have limited number of team members to match demands.
J2E: Despite the challenges you mentioned above, you were still determined to carry on. What has been the outcome of these laudable steps in your advocacy journey in women sexual and reproductive health?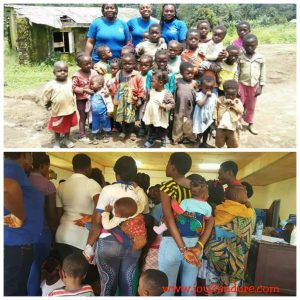 SM: It has been a wonderful experience for me and quite rewarding too. First and foremost, it is a wonderful healing process for me from the psychological trauma of undergoing a crude abortion and having many unprotected sexual intercourse. On the other hand, it has been very beneficial to members of the community who are now interested in the subject. We have been able to get young people involved in issues of sexuality through our SMS support system. This is a 24/7 service available to them to text their worries and challenges or simply get a friend to talk to. We reply promptly and many have been using the service. We have equally had a platform for parent- child interactions. This has helped us establish the partnerships that exist in issues of sexuality between parents and children. Also, we have radio slots on our local radio station to reinforce our messages. The feedback has been really encouraging.
J2E:  Amazing results from the past two years, despite the challenges.  It is a good thing you are also finding healing as you endeavour to help others. Keep up the good work. I saw a recent post of you as a World Pulse Story Awardee. Can you recount your WP journey and how this has impacted your advocacy work?
SM: World Pulse is one of the safest places I have in my life especially as a change maker. I have had this close and empowering relationship on this platform that has greatly shaped and fostered my journey.  This online community gave me the unique opportunity to share my life secret which I kept buried in me for over sixteen years. I did this because I learned from world pulse that there's power in sharing our stories. It helps us to heal, relate and gain support from other sisters around the world.
J2E: We all need that safe haven and I can voucher for that as a member of WP. How does being a graduate of their famous digital empowerment program and impact leader help your advocacy journey?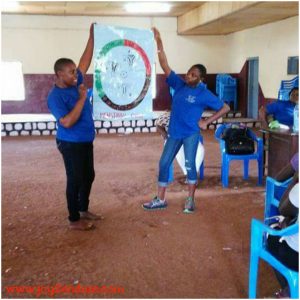 SM: Amazingly, world pulse proves a safe space where you don't feel judged or insulted after sharing your story but you get an honorarium and a badge on your profile. World Pulse is the platform that has given me formal online trainings to carry out my advocacy both online and offline. After graduating from the organization's famous online Advanced Digital Change making four months course I am able to recognize all the assets available for my journey and take advantage of it. I have therefore had my 5 stories featured making me and my followers understand the relevance of my subject. Most importantly, I have been awarded the prestigious Impact Leader Award in recognition of the work I do in my community.
J2E:  Congratulations for your award, a worthy recognition indeed. Going through rough terrains and impassable roads is tricky.  How do you navigate your way to reach your audience and how do you manage this work with other personal commitments?
SM: Hahaha, the passion in me to uphold WOMEN and GIRLS' reproductive rights enables me to overcome challenges like bad roads or administrative bottle necks. Frankly, I don't have time for myself or personal commitments because; there's a lot to be done with little or no human and financial resources. Volunteerism is still a concept to be understood by many around me.
J2E: What long term goals do you have for this impact journey say five years from now?
SM: My long term goal is to be to open a social clinic where women/girls can go to get unbiased information, counseling and support concerning their sexuality. I believe if I give such a service to the community, we will be sure of the provision of a comprehensive sexuality education for all at every level of our society. This goal is a dream I hold so close to my heart because I know informed decisions concerning one's sexuality is a key to a successful life and decent jobs as well as standards of living.
J2E: Do you have any words of advice to others advocating against things seen as taboo and to the public as a whole?
SM: I know there are many out there advocating for a better life or condition for the community. Usually, issues that need advocacy and attention are often taboo to the society. It is for that reason I always encourage advocates to focus on their passion for change and never give up. Just keep selling your ideas and you will be amazed at how much you will achieve in your vision for change. Resistance is always the first reaction but support and followers come when you persist. If you know it is right keep up many will celebrate you when they finally understand.
J2E: Apart from cultural roadblocks, do you face financial challenges?  If so how do you manage everything?
SM: The really sure and powerful asset I have is my vision for change in the area of Sexual and reproductive rights. I am glad because, despite the financial hurdles I can sail through. I hope and pray to have followers and supporters who believe in what I do and support my vision with whatever financial support they can.
This was quiet an interesting interview. I hope you enjoyed going through as much as I enjoyed talking with Ms Sally. Taboos continue to be permanent setbacks to many, especially women and girls. It is for this reason that we need to continue to encourage and support people like Ms Sally who are daring to be different, breaking all barriers to educate their communities about such taboos.  Reach out for Ms Sally if her work inspires you. Check more of her activities on her FB page here.
Thank you for reading.
Let us know what you think in the comments section. We are inspired always by your visit and comments.
ARREY-E. AGBOR-NDAKAW