While growing up, I had this wish to own a manor house surrounded by every beautiful tree possible or a beautiful structure with a white picket fence and beautiful flower gardens. Well, blame novels and an active imagination for that. I believe most of us have plans to own our own housing structures someday. However, the scarcity of people with knowhow who could provide you with a plan which matches your dream house is always a problem. Regina House Plans (RHP) saw the problem this absence is causing and moved in to fill that gap. Technology is making a lot of things possible today and many like Justice, are making good use of it. Read about his RHP journey on this one on one interview with the brain behind RHP.
Joy2Endure (J2E): Welcome to Joy2Endure. We are glad to have you share your story with us. Please tell us about yourself.
Justice ANKENGATEH (JA): I am called Justice ANKENGATEH, a chartered civil engineer with the National Order of Civil Engineers of Cameroon, Autodesk Certified Professional and a member of the Project Management Institute.
J2E: That's a rich profile you have. I believe you do a lot of designs in your work. Is this love for designs the inspiration behind RHP?
JA: Yes, I do a lot of designs in my work and this has been the casein my over 10 years international and national experience. This love for designs is one of the great inspirations behind Regina House Plans (RHP) coupled with the need to provide affordable construction services to Africans and Cameroonians in particular.  I would like to mention briefly here that RHP is an online market for house plans and designs. This platform was created to permit users have a choice of plans and designs from which to pick and download immediately after payment for use.
J2E: That indeed is some great motif especially with the limited number of architects we have here. How though do you make your services reachable to the wider public who may not have access to technology?
JA: The number of architects and construction professionals is not a problem as such but it's the cost of the services. In Cameroon for example, to get a duplex designed, you should be looking at between FCFA 250.000 to 1.500.000 depending on the size of the building. Reaching out to a wider public is much more through word of mouth. Since credit and debit card issues in Africa and Cameroon particularly is still a taboo and even those who possess one are uncomfortable using it online, we have made delivery in Cameroon free of charge. We are working with MTN and Orange to facilitate payment through MTN Mobile Money and Orange Money.
It is worth mentioning here that RHP focuses on affordable construction services mainly to Africans. It offers complete architectural design plans, quantity and cost estimates, structural designs, electricity and plumbing designs, Turnkey construction services, engineering consultancies and project management.
The website www.reginahouseplans.com offers a wide selection of different types of house plans ranging from Duplex, Bungalows, Apartment Buildings and Country Homes in middle class categories to luxury categories. In a bid to make the plans affordable Duplex plans sell for FCFA55.000, Bungalows and Country Homes for FCFA25.000. This comes with complete construction plans which could be used to request for a building permit or carry out the construction work proper, this is why the plans are delivered in A3 and A0 printable PDF formats.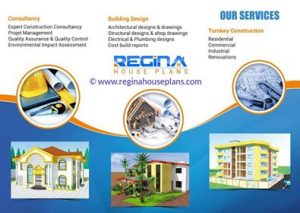 RHP delivers plans in electronic format for the users to do inexpensive local printing. There exist two means of payments, one through their website with any major debit, credit card or through PayPal. All online payments are secured by state of the art online security services like the Security Socket Layer (SSL) on the website and the website is PCI (Payment Card Industry) Compliant, this is to insure users can process their payments safely. The second method of payment available on in Cameroon is delivery on a thumb drive/CD Rom for FREE or printed copy delivered for a fee to cover printing. When delivery is done physically, it's done in exchange for cash payments.
Minor customizations/modifications are done for free too, though some plans could be purchased in AutoCAD set format which could be modified by any construction professional of the client's choice. The AutoCAD set format is usually more expensive given that it's similar to paying for a picture and asking the photographer to hand you the "negatives".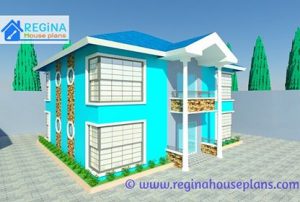 We could assist clients in Cameroon, Nigeria, and Ghana in filing for building permits for a fee. In Cameroon, we assist clients in obtaining construction loans mainly from Credit Foncier du Cameroun (CFC) …the Housing Bank of Cameroon for building loans.
For payments done on the website, immediately payment is done, the client/user receives a receipt INSTANTLY to the email address provided; this receipt contains the downloadable link for the plans. If the user requires a hard copy, this is shipped to him/her for an extra fee. We usually advise users to purchase the electronic copy and do inexpensive local printing (if located out of Cameroon). This is cheaper than having us bill for printing and shipping. We have an online chat representative to assist online on the website on a 24/7 basis.
J2E:  Thank you for the detailed explanation. Is cost of services in your option the reason why we have some haphazard and funny housing structures around us today?
JA: Definitely. Africans generally do not have the culture of paying for intellectual services. So, a lot of house owners get bricklayers to do cut to fit housing structures, most of the time this has an enormous construction cost incidence on the buildings which are not code compliant and functional. At the end consumers pay the price such as uncomfortable living conditions, poor sewage drainage systems, you name it.
J2E: I can certainly vouch for consumer paying the price with housing structures, especially in big towns where houses are a problem. It is usually one problem to another… RHP I believe, is therefore a big help in solving this issue. Now, you mentioned working with MTN and Orange money to enable payment through their services. Does that mean when you reach a deal with them your services will no longer be free in Cameroon?
JA: Delivery will still be free; the payment through mobile money (MoMo) will just facilitate payments and reduce cash exchanges.
J2E: In other words, you cover the cost of say shipping designs to interested parties in Cameroon?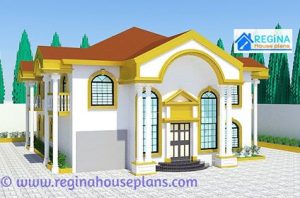 JA: Yes, but one thing you should understand is the price of FCFA55.000 is for electronic copy. To get paper copy, there's an extra fee depending on what format will be ordered. Electronic copies come in PDF Format configured to be printed in A3 and A4 Paper formats. Delivery is still free in Cameroon be it now or ever.
J2E: Thank you for making that clearer. I am sure it will make it easier for any prospective client of RHP. Like any new business competing with our traditional way of doing things, there must be some challenges you face. What are some of these challenges and how do you deal with them?
JA: The greatest challenges being faced now is piracy, when we started we put the floor plans together with images on the website but came to realize people just download and go have it developed by local bricklayers or by other professionals at a cheaper rate. Now we had to deactivate right click and downloads from the website before payment and they resorted to doing screenshots or just simply sketching the plans and having the houses built since there's no enforcement for building permits everywhere in Cameroon.
To solve this issue, we removed the floor plans from the website and rather show project images and describe the project, then offer free customization services after purchase (minor modifications). We equally dropped the prices to solve this issue.
The second challenge is credibility. Most Africans and Cameroonians believe everything on the internet is advanced fee fraud but surprisingly enough when it's free it's not fraud. So we have to find means of delivering in Cameroon for free and collect cash for thosewith credibility issues.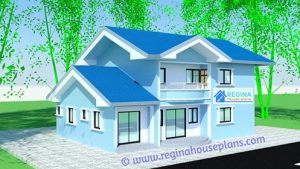 J2E: Piracy and lackof credibility are major setbacks in many businesses especially where Intellectual property rights are not respected. Well done for taking some steps to protect your work. I hope such steps continue to help your business grow.  As full time engineer, how do you balance your time alongside RHP?
JA: It's very challenging; Sometimes, I get to sleep on average 3hrs a day when I'm chanced. When there's a lot to be done I don't sleep at all. For example, I haven't slept since yesterday. Before we started this interview I was sitting on my desk and still there till now. I only get to stand to get coffee or food. I am not complaining because these are sacrifices at the beginning of every business. All work and no play sure make Justine a dull boy…
J2E: That's a very demanding schedule you have. You don't have assistants? More manyanga to your hustle.
JA: Well, most of my playtime is scrolling through Facebook feed or talking with my family on phone. I have more of consultants in some select domains. This is because I was extremely disappointed with my collaborators and consultants when I started this venture, I had to take everything into my hands and get the train moving. This has cost me huge resources and delays on project milestones. Thanks for the manyanga.
J2E: A sad reality for many up and coming businesses especially around here. I am glad you picked up the pieces and kept moving. May your dedication and labour yield you rewards. What advise could you give a young and struggling entrepreneur?
JA: The most important thing is to keep moving. One piece of advice I will give any young entrepreneur for a start is to quit talking and start doing. Plan, implement, monitor and evaluate. You cannot evaluate what you did not plan. Plan, implement, monitor and evaluate. Then from lessons learnt develop best practices.
J2E: What a GREAT piece of advice! Thank you and may that motivate any young entrepreneur reading this to keep moving. On this note, we come to the end of the interview. Thank you for sharing your RHP journey with us at Joy2Endure.
After reading this, I hope many of us planning housing structures would be willing to work with RHP. Their designs are beautiful as the pictures here show and I dare say, they will be able to provide designs according to what your heart's desires.
Keep Reading, Keep Sharing and Keep Commenting. We are inspired by your comments.
ARREY-E. AGBOR-NDAKAW