When life throws challenges at you, there are just two things you can do. You can choose to sit somewhere resigned, feeling sorry for yourself, bemoaning your fate and organizing one pity party after the other OR you can decide to face the challenges head on and fight… using these lemons life threw at you to make the best possible lemonade by deciding to find joy in your struggles difficult as it may seem and turn your challenges into opportunities. The first time I was invited as a guest speaker, my theme was on how we can turn Challenges into Opportunities. It is thrilling to discover someone who had no idea about this and who is miles away doing exactly just that. Read the inspiring story of Ms Nora Brown a mother of four and the CEO of Nora Brown Cakes who, despite losing her two younger brothers to sickle cell and  the numerous challenges life has thrown her way, refused to bow down but remains determined to keep breaking all the glass ceilings along her path in this sometimes rough but interesting journey we call life.
Joy2Endure (J2E): We are honoured to have you share your story with us. Please tell us, who is Nora?
Nora Brown (NB): Nora is a young aspiring woman fighting all the odds that life throws at her despite the numerous health challenges.
J2E: I see a very determined young woman despite the numerous health challenges. Can you tell us more about these health challenges?
NB: Where do I start from with this question? I was born a sickle cell patient. It has not been an easy journey.  Dealing with numerous sickle cell crises with associated complications like leg ulcers, bone infections like osteomyelitis, chest infections etc made life extremely difficult. Childhood wasn't that much enjoyable because I couldn't play that much with my friends, couldn't do PE, I missed out dancing in the rains too but as I grew older, I began to understand why I had such limitations.
J2E: Like every other warrior, it is not always an easy ride. Ashia. Still, you continue to trudge on in life despite these challenges. What has kept you determined against all the odds?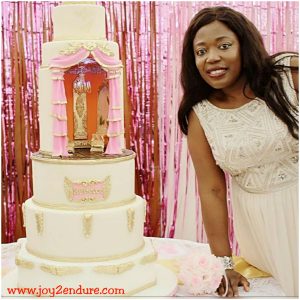 NB: I had always been determined to make it in life when I saw how much my mum put in daily to see me live a happy life. But this determination became stronger when I gave birth to my first child in 2003. I knew I have a responsibility to look after him. That gave me the boost to want to live and as my family increased, so did my drive.
J2E:  Impressive. No better example like a determined strong mother. Talking about child birth and large family, can you take us through your pregnancy experiences and how being a mom with sickle cell impacts your family life?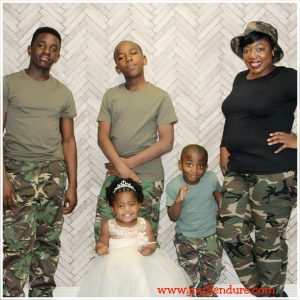 NB: Well, I can't say it's been an amazing journey but when I look back, I decide to gaze only at the joy of being called mummy. Pregnancies have been difficult. I get very, very anaemic during every pregnancy. I get numerous blood transfusions and the amount of medications increase with each additional pregnancy. The older you get, the more difficult it gets but to crown it all, I didn't really stress out with labour pains because I find them milder than a sickle cell pain.
Nevertheless, sickle cell impacts my family life because my children are always left in panic once the ambulance is called to take me to the hospital. They will be asking to ascertain if mummy will come back home. I usual feel sorry for my teenagers, not easy being a young care giver.
J2E: Labour pains milder than sickle cell pain… goes to show there's yet to be found something that compares to sickle cell pain. I can imagine the panic and worry you and your family, especially the kids face each time you have to go to the hospital. Certainly not an easy thing to deal with. Talking of hospitals, how frequent are these hospital trips? Are you always comfortable with the care you receive while at the hospital?
NB: Definitely! I would rather keep having babies than go through a sickle cell crisis.  My labours during pregnancies are usually not very complicated. I go to the hospital and I have my baby within an hour or so. That is not the same with having a sickle cell crisis. But, frequency of hospital trips depends on temperature changes. During the winter it is not easy because of cold and snow neither is it easy during summer due to dehydration. But the care I receive is excellent. I am super comfortable with my care now.
J2E: It is good to know you get excellent care now. I applaud your confidence. Talking of winter and summer, what steps do you take during these periods to minimize the frequency of crises?
NB: During summer, I have plenty of fluids to drink and I carry a bottle of water in my bag if I need to go out. This is to avoid dehydration which triggers a crisis. During the winter, I keep super warm by wearing appropriate clothing: body warmers, thermal wears, hats, gloves and scarves and a winter jacket and plenty of warm fluids too.
J2E: Keep on keeping on. You are doing a marvelous job at self-care, thank you for those tips.  Let's talk more about challenges. Apart from the challenges mentioned above, what other challenges do you face as a result of living with sickle cell? Do youoften have to deal with instances of Stigma?
NB: Yes I have lived with stigmatization all my life but I keep pressing on. You  have people insult you like  are  a half die and you'll soon die; you're just a walking corpse, God punished you with sickle cell, you can't make children (after the children, it changed to stop filling the world with disabled children), you'll soon die of stroke etc. But here I am standing stronger and taller and excelling in my career and my life. I have had many warriors telling me they experience same so I encourage them to focus on succeeding and making a life out of what they have. All that stigmatization is negative energy which is not needed.
J2E: Amen! Keep breaking the odds and standing tall! SS certainly got no hold on you or other warriors.  Let's talk about your career. I don't know if you have a permanent job. However, I have seen how talented you are in cake making. Your cakes have always left me with this wow effect each time I see a new design of yours. What is the inspiration behind your cakes and the stories they seem to tell?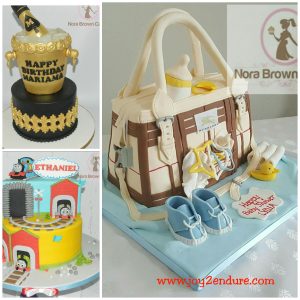 NB: I have tried several company jobs and offices but my absence levels weren't that great due to ill health. I became tired of the constant 9-5pm jobs etc. So I decided to go into self-employment and build a career from that. My mum used to bake cakes and sell to raise money for I and my siblings' care. So, I decided to take it up and I am now a self-taught Cake Decorator at Nora Brown Cakes. And each time I decorate I put in my best to show that love can come out from pain.
J2E: Love coming out of pain. In other words, turning your challenges into opportunities. That's a great mindset, thank you. Before we go, what words of encouragement do you have for other warriors and their families out there?
NB: Thank you very much. I will just tell every warrior not to give up. Just be you, lift your head high and know you're not alone… I have come to understand that we should do things we enjoy. Our talents will always make a way for us. This is my reassurance while working but nothing good comes EASY. HARD WORK & PERSEVERANCE IS THE KEY! ~ Nora Brown (CEO Nora Brown Cakes)
J2E: Never give up. Dare to dream and work hard. Thank you for these encouraging words. It was great talking with you. I feel inspired with your go getter approach in life. There's really no time for pity parties!
NB: Thank you very much, Miss Arrey Echi. You have been such an inspiration to me in this journey. As you rightly said, no time for pity parties!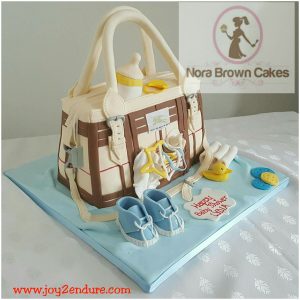 This is one interview that has left me overwhelmed and pumped up, determined than ever to keep #BreakingtheSilence around sickle cell. I am more than grateful to have other Sickle Strong warriors joining the fight. Be inspired as you read this and share to inspire someone you know. And don't forget to check out her cakes on Facebook and patronize her. You can also find amazing pictures of her work on Pinterest.
All Pic Credits by Nora Brown
Keep Reading, Keep Sharing and Keep Commenting. We are inspired by your comments.
ARREY-E. AGBOR-NDAKAW